So, you've completed your TEFL course with flying colors but haven't a clue of where to go teach.
Most people decide to do a checklist and hope that the country they chose covers most, if not everything, that is on the list.
Here's a list of things most people want (in no particular order):
Fun, exciting and adventurous
Teaching is rewarding and the children are enjoyable to teach
Plenty of time to travel and explore
Overcome new challenges and grow as a person
Meet new people and make lasting friendships
Be apart of a community
Learn a new language and about a new culture
Do things I cant do at home
Make a difference and inspire people
Have enough money to live (or be able to save money)
Now you are probably thinking, "To find a country that offers all this, and more, would be awesome. But surely no country like this exists"
Japan!
No, really! It does!
It doesn't matter where you go to teach in the world you will experience both ups and downs but these are all part of the adventure. Mixed in with the ups are the fun and exciting times too!
My adventure began when I found out I had been accepted to teach in Japan - my first challenge was deciding what to take and what to leave behind - confronted with 2 suitcases and a limit of 25kg it was almost an impossible task...luckily for me most electrical items were not compatible with Japan, so that lightened the load. Also I put nearly all my photos onto my computer (I could print them out when I got to japan). I took clothes that I would actually wear and decided it was easier to take a bit extra money to buy clothes when I got her. Gradually, I got my suitcases within the limits.
I arrived in Japan April 4th 2010 at 630pm. After an hour getting through customs I had a matter of 15minutes to get my suit cases, buy a bus ticket and catch my bus...otherwise I would have to wait another hour for the next bus. I had never been to Japan before, spoke the basic phrases of "hello", "thank you" etc, and will still confused by the money and the fact most paces didn't accept card payments. Nevertheless, I made the bus with 2mins to spare.
Tired and exhausted after a 15hour flight I dozed off knowing that the bus journey would take 3hours to get me to my first destination - Hitachi.
Hitachi city was where I'd be spending my first week in Japan doing induction training. By the time I was settled in the hotel (which was much better than a travel inn in England), paid for by the company, it was almost midnight - to my horror induction training started at 9am (that's midnight England time).
My first week was a blur because my sleeping pattern was out of wack - for most part I think I enjoyed it but I'd recommend to anyone to travel a week before to get a adjusted and to just go with the flow - you will be full of questions but gradually most will be answered over time.
One of my most memorial experiences in the first week is the medical - I had to pee in a cup, let a nurse take blood and not be able to tell her I'm afraid of needles, and then have an X-ray done and confuse the doctor because I left my necklace on.
After the first week I made my journey north to iwate prefecture where I would move to my apartment and start teaching.
The fun begins
Essential the fun had already begun BUT the real fun begins when you start teaching - every school is different, every student is different! But for me it's the students that make it all worthwhile.
My favorite school is an all boy's technical high school - some people hate these because, just like in England, boys WILL BE boys! - At first I struggled because I though that high school would mean they would be more fluent in English, especially considering the fact they start English at 5 years old - the problem is the teaching style is different and for most part students don't actually get real practical experience. In England if we learn French we can easily hope over the channel to visit France. In America if you learn Spanish chances are there are Spanish people at your school... in Japan, in most areas, its still quite rare to see a foreigner. In my city the only other foreigners are teachers - out of 60,000 people only about 30+ are foreigners (9 are teachers, 5 are married, 15 are Chinese workers and others are volunteers because of the recent tsunami). - Therefore, the students only use English at school, in class.
When I lowered my expectations I began to enjoy teaching a lot more - now, after a year, I feel a part of the schools and I love my students...recently we had sports day and to show their appreciation for me taking part I was thrown into the air along with the other 2 homeroom teachers because we were part of the winning team. My school specifically had to ask my other school if they could exchange days because the students requested that I attended sports day.
At my friend's school, they were having a cultural selling fair (stalls with worldwide products) and I bumped into my students who were looking around. It wasn't long until they dragged me off because they wanted to ask questions or tell me about Japanese products.
Every time I see my students, they are always so happy and even more so when it's outside of school.
Considering their English ability is low, they actually try to use English, more so than my other school which is higher level - albeit with comical effects...at times though the students will demonstrate their ability to navigate a dictionary and find only the words of interest...as I mentioned, boys will be boys, so I will leave it to your imagination of the words they were interested.
Spam and back
These are two separate incidences that happened at my all boys' schools.
The first is Spam - I walk into class to find my students have learnt a new word, even my teacher was asking if I understood when they said spam. I go into explaining that it in England it was brought over by the Americas after the war as a cheap source of food to eat - the students were so amazed that we ate it and asked do we eat whale spam... honestly I don't know what is used in spam and so I explained its from different animals.
My teacher looked puzzled and came over with a dictionary - all this time the teacher and students had been trying to say 'sperm'...
As for back - well, I was playing a gesture game, a student volunteered, chose a word and began gesturing. Unsure he was slow at first to get started but then he started to thrust in the air - I was so confused - the students were laughing, he then started to gesture a spanking action whist thrusting - I was in hysteric and horrified, especially when I saw the other teachers face... I told him to stop and asked what he was doing - the word was 'bag'...I pointed at a bag...his face went so red with embarrassment... he told me he thought it was 'Baku' - Japanese for back which is a sexual position we call 'doggie style'.
Holidays
Although school can be so much fun you also get the whole of summer and winter break off, plus a week in may (golden week) and various other national holidays, which if they fall correctly give you 3 or even 4-day weekends. These are the times to explore - one golden week, me and 3 friends drove from iwate to Tokyo (7hours), visited a friend and then drove to kanazawa (3hours but excellent for Japanese gardens), following that we went to Kyoto for the day before driving to Nara where we stayed with another friend and visited some temples and a nature park. Whilst in Nara we also went to Osaka for shopping and to visit the aquarium.
My other journeys have included a 4day weekend up in Hokkaido, going to a yakisoba summit in Aomori, camping by a lake in Akita, going to 2 snow festivals, taking part in a samurai summit, being a part of an autumn parade, visiting many temples (make sure you buy a temple book to collect temple signatures), going to Disney land, visiting castles, cooking in nature etc
But the best memory was almost 2 months after I arrived
The wedding
Yes! I went to a wedding in Japan! - This is for most people a rarity but I was very fortunate to know the right people at the right time and was able to go to a wedding that was a mix of Japanese and western styles - you can read about this in more detail by visiting my blogs - but lets just say, regardless of the cost (yes you have to pay to go to weddings, its a gift) you should go if you are asked!
Challenges
As teachers we face challenges all the time - but my greatest challenge was the tsunami - I was and still am living in miyako. One school was hit, some of my students and friends died, communication was limited with the 'outside world', my town had been reshaped, the place I lived in for 8month when I first arrived had been wiped out - but amongst all the tragedy, heart break, destruction I am still here!
Japanese people are so friendly, they like to help and rarely speak badly of people (at least to your face). You quickly become a part of the community, especially when it's a small city, town or village. You may not know their names but every time you go to a restaurant, shop; bar they recognize you and are so happy to have a foreigner their store. One time I have 5 people gather round me to help me because I wanted a points card but no-one understood...15mins later with their collective help, they worked out what I was asking!
We have 2 evening adult English groups and a cultural exchange group. A friend and I go play tennis with Japanese people and are going to be in a tournament at the end of the month. We regular invite people round to try English food and in return get invited to their houses. We go to karaoke as a group, sometimes go on trips together.
It is because of this strong community value that after the tsunami I decided to stay - this is my home, these are my friends and they are my Japanese family. Even though my company wasn't sure if I had a job to go back to, I still stuck around to help my community until a decision was made that we were to go back and teach.
Why Japan!
Japan literally does have everything, something for everyone. You can teach in the big cities and have western comforts. Up to date technology, gizmos and gadget, mixed with hidden shrines and temples.
OR you can go to the countryside, be in a fishing village, which in turn helps you to learn more about traditional japan, and actually learn the language faster.
You can help on the east coast, support communities, give hope, and join volunteering groups to rebuild.
We even have sub-tropical climate in the south of japan.
There's an endless love of food - not just sushi... most major cities have some kind of famous dish - Sendai is famous for cow tongue! Aomori is Apples! Hakodate is squid in soy sauce to make it wriggle whilst you eat it!
All companies pay you a transportation allowance to work and back - some give you a rental car - the trains are usually always on time (occasionally 2mins late)
Pay is about £2000 a month - your contract is usually mon-fri doing 29hours of 'work' (sometimes work is a matter of playing games, going to sports day etc - for most part you teach a max of 6x50min classes a day... even then as an ALT you might only teach 10min of the class)
If this doesn't convince you to come - here are some pictures that might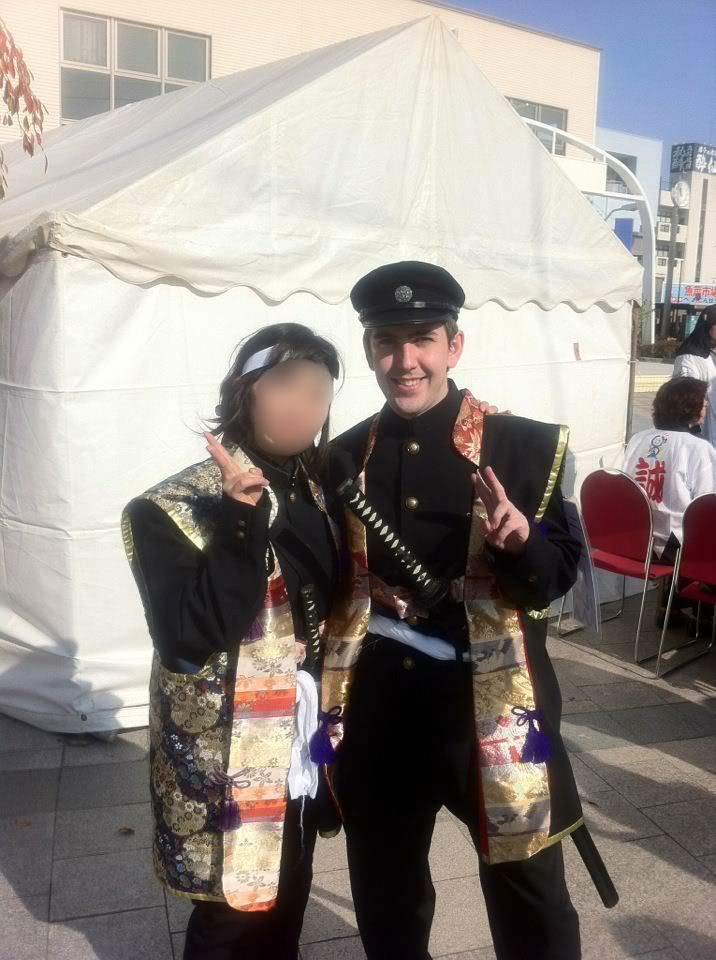 Samurai Summit!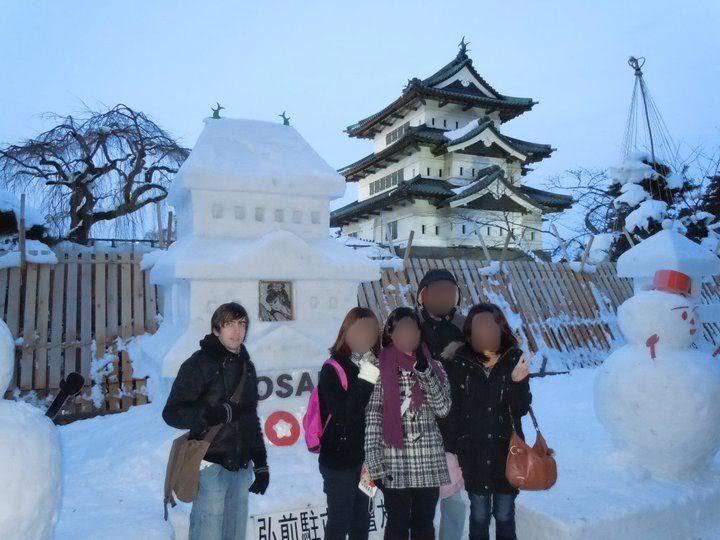 Snow Festival!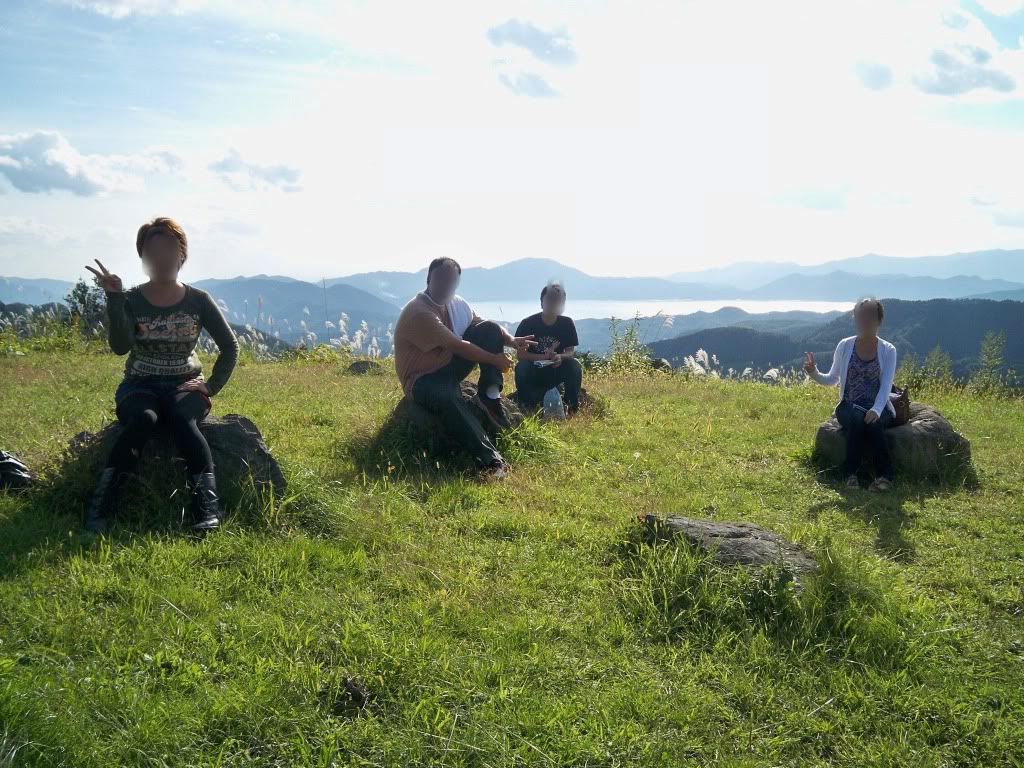 Wonderful Views!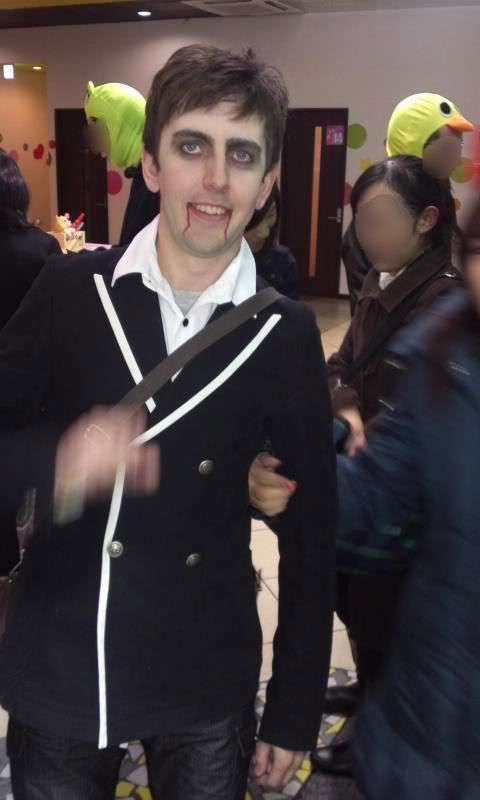 Halloween!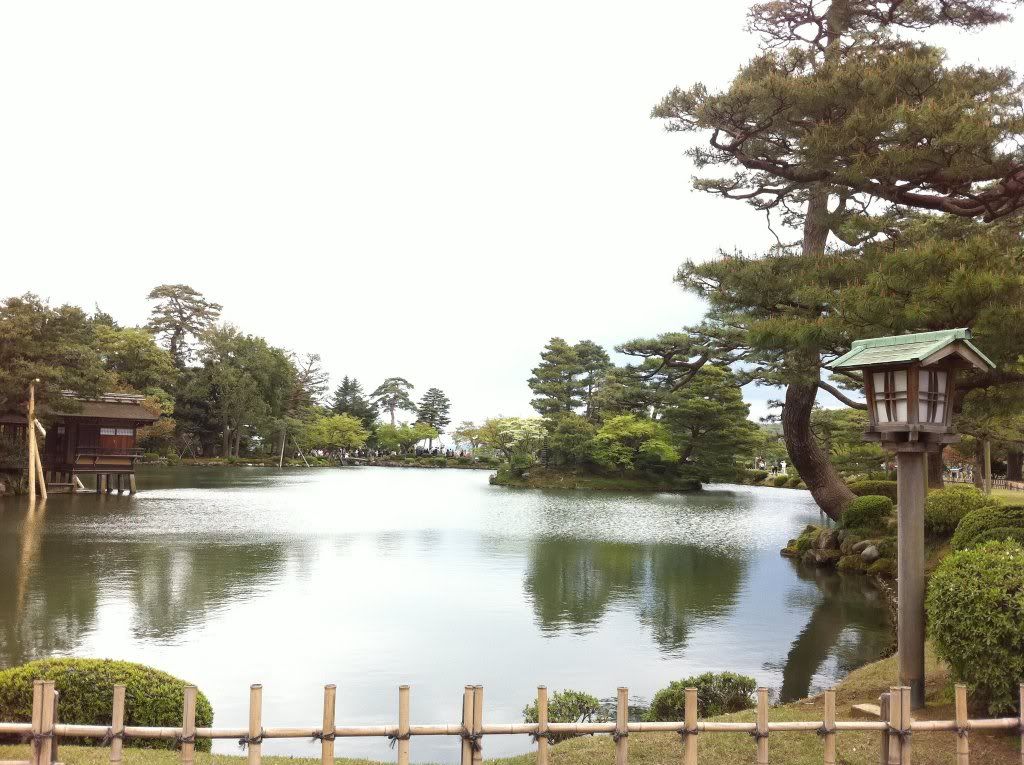 Japanese Gardens
(Please ask permission to use the pictures, otherwise I will remove them!)